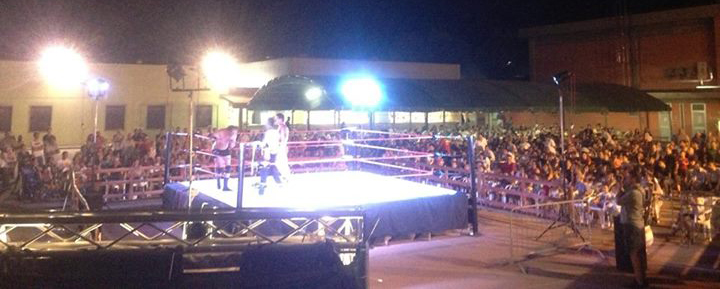 Risultati di ICW La Battaglia della Bassa V
11 Settembre 2013
ICW LA BATTAGLIA DELLA BASSA V
Campitello (MN)
Sabato 7 Settembre
"Il Viscido Serpente" KOBRA batte "Il Giovane Leone" MARIEL con un roll-up fatto aiutandosi appoggiando i piedi sulle corde
Los Luchadores (SILVER STAR & EL TECNICO) battono "L'Intelligenza Superiore" CORVO BIANCO & "La Stella del Sabato Sera" ANDY MANERO dopo un Twisting Sunset Flip di Silver Star su Manero
"Lo Spirito di Sparta" SHOCK batte "Il Lottatore Più In Forma della ICW" MARK FIT con una Shock Bottom
ECTA Heavyweight Championship: "The Beast From Belgium" THE BULL batte GORAN IL BARBARO con un 245 Lariat. Al termine dell'incontro, arriva Lupo e inizia a insultare Goran, dicendo che è stato finora una grossa delusione per l'Esecutivo e che deve imparare a obbedire agli ordini del Capobranco. Goran inizialmente si trattiene e non reagisce, finchè Lupo non gli dà un sonoro schiaffo. Al che Il Guerriero Longobardo prende Il Capobranco per il collo e lo chiude in un angolo; accorrono però Kobra e Shock e attaccano Goran alle spalle, dando inizio a un pestaggio 3 contro 1. Si unisce a loro anche The Bull, che colpisce il rivale con la sua cintura ECTA. Il Capobranco chiude allora Goran nella Morsa del Lupo, che lo lascia esanime al tappeto
"La Regina del Ring" QUEEN MAYA batte con un Royal Lariat la Campionessa Femminile della ECTA, la tedesca LADY LORY, in un non-title match
Campionato Italiano di Wrestling: LUPO (C) batte "Il Fenomeno" RED DEVIL con La Morsa del Lupo, dopo l'interferenza di The Bull, Kobra e Shock, che sfruttano un momento di ko dell'arbitro per attaccare in massa Il Fenomeno. Post-match, L'Esecutivo prosegue un pericoloso pestaggio ai danni di Red Devil. Accorrono inizialmente Mariel e Mark Fit che tentano di salvarlo; si unisce infine a loro Goran che corre come una furia sul ring e li aiuta a liberarlo da Lupo e i suoi scherani. Il Barbaro prende allora il microfono: è veramente stanco dell'Esecutivo e vuole regolare i conti subito, con un match a squadre!
RED DEVIL, MARIEL, MARK FIT, GORAN IL BARBARO battono LUPO, KOBRA, SHOCK, THE BULL quando Goran schiena Kobra con una Barbaro Bomb. Dopo l'incontro, Goran indica l'attonito Lupo e la sua Cintura.