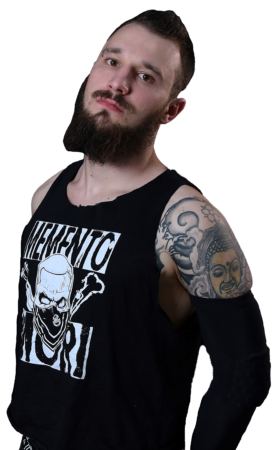 Altezza:

1.70 m

Peso:

75 kg

Stile di Lotta:

Brawling

Proveniente da:

Brescia

Debutto:

con Alex Fit a ICW Saranno Campioni #1 vs I Nuovi Samurai (Maestro Manuel Majoli & Kojiro), Pavia 18.12.2011

Theme Music:

Heart Attack – Scarlxrd

Sito:

Allenato da:

ICW Academy
WAW Academy
Jimmy Ocean (UK)
Danny Boy Collins (UK)
Projo (UK)
Sami Zayn

Titoli Vinti:

ICW Campione Interregionale
ICW Campione Fight Forever
ICW Campione Italiano dei Pesi Leggeri
ICW Campione Italiano di Coppia (con Nico Inverardi)

Trofei Vinti:

WAW Academy Joe Williams Trophy (November 2012)
WIT Cup 2014 (WrestlingItalia.it Cup, 17-18.05.2014)
Young Blood Tournament NWF

Finisher:

FK (Reverse Go To Sleep), Double Foot Stomp.

Trademark Moves:

Rolling Elbow, Phoenix Splash, Spinning Black Magic, Shining Wizard, Drop-sault, Pelè Kick, Buzzsaw Kick, Athletic Kick (Trouble in Paradise)

Federazioni per cui ha lottato:

– ICW Italian Championship Wrestling
– ASCA Adriatic Special Combat Academy (Italy)
– RSW Rising Sun Wrestling Promotion (Italy)
– Progress Wrestling (UK)
– WAW World Association of Wrestling (UK)
– SWA Super Wrestling Alliance / Zero1 España (Spain)
– NWF Norges Wrestling Forbund (Norway)
– DOA (UK)
– PROW (UK)
– Battle Pro (UK)
– APW (UK)
La costante ricerca della perfezione e il continuo allenamento può portare a dei risultati a dir poco incredibili. Ne è la dimostrazione Mirko Mori, che per anni è stato etichettato come "il futuro del Wrestling Italiano" e che a distanza di tempo ha dimostrato quanto quelle voci fossero veritiere. Mori infatti non è più una giovane promessa, ma una formidabile certezza del Wrestling Tricolore. Affinate le sue doti presso il Dojo PROGRESS, l'ex Mark Fit è pronto a darvi il benvenuto nell'era Mori, dimostrando come quel futuro sia diventato il presente della Federazione Italiana di Wrestling.