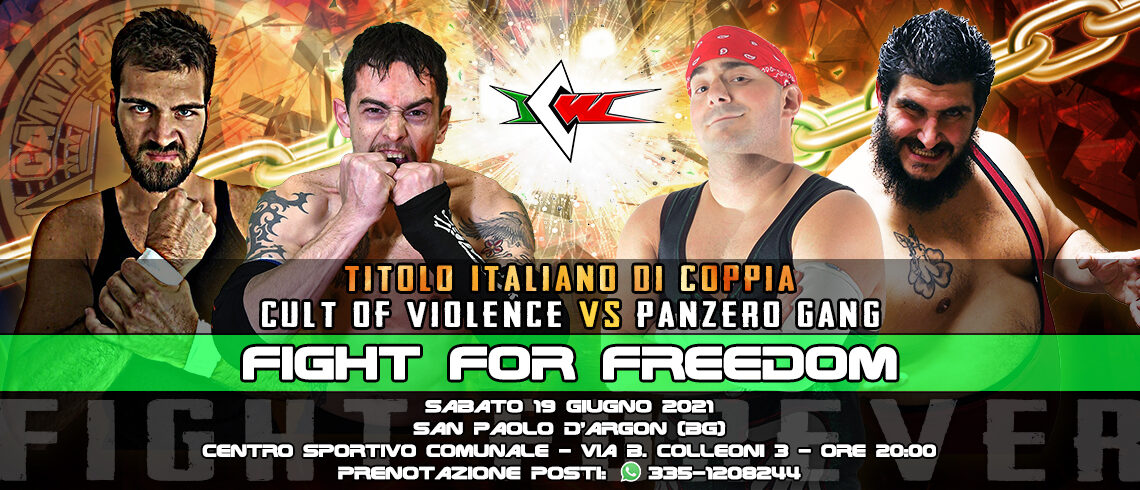 Cult of Violence vs Panzero Gang per i Titoli di Coppia a ICW Fight For Freedom!
13 Giugno 2021
Il primo incontro titolato per ICW Fight Forever: Fight For Freedom è stato ufficializzato, e vedrà un rematch che la Panzero Gang attendeva da molto tempo. Era quasi un anno e mezzo fa quando l'insolito duo composto da Taurus ed El Panzero, diventati in breve tempo uno dei team più amati dal pubblico, si è scontrato con la violenza sregolata dei Cult of Violence Hardcore Cassi e Dennis, che hanno chiuso bruscamente il regno titolato della Gang con l'aiuto di una mazza da baseball avvolta nel filo spinato.
Da allora, complice anche la pausa del lockdown, gli ex Campioni non avevano ancora avuto una chance per riorganizzarsi e ritentare l'assalto alle Cinture. Il 19 giugno, Taurus ed El Panzero avranno finalmente quella possibilità, anche se si troveranno di fronte due mine vaganti, due lottatori ancora più colmi di rabbia, tenuta a stento repressa in questi interminabili mesi di stop forzato. Una rabbia e una violenza che sta per trovare finalmente una valvola di sfogo il 19 giugno a Bergamo, e non osiamo pensare come.
Riuscirà la Panzero Gang a resistere al primo impatto e a ritrovare quella magica combinazione di grinta e coraggio che li ha portati un tempo a sbaragliare la Casta? O cadranno ancora una volta vittima dei Cult of Violence?
Un incontro dall'esito quanto mai incerto, che aprirà le danze sabato 19 giugno a ICW Fight Forever: Fight For Freedom. Per non perdertelo, prenota subito il tuo biglietto contattandoci a info@icwwrestling.it o via WhatsApp al numero 335-120844!
---
ICW Fight Forever: Fight For Freedom
Sabato 19 Giugno 2021
SAN PAOLO D'ARGON (Bergamo)
Centro Sportivo Comunale
Via Bartolomeo Colleoni 3 [Evento all'aperto]
Clicca QUI per trovare la location: https://bit.ly/2SBNTMb
Apertura Cancelli Ore 19:30; Inizio Show Ore 20:00
PRENOTAZIONE BIGLIETTI:
Tel. 335/1208244 (anche via WhatsApp) e info@icwwrestling.it
COSTI BIGLIETTI:
Interi 12,00 € ; Ridotti 8,00 € (fino a 12 anni inclusi)
@icwwrestlingit #ICW #wrestling #ICWFF #fightforever #pleasecomeback #italianchampionshipwrestling #italianwrestling #wrestlingitaliano #icwfightforever #icwbergamo #icwfightforfreedom #fightforfreedom #wrestlinglive #madeinicw #20annidiicw #ripartenza #eventidalvivo #tagteam #taurus #elpanzero #panzerogang #campioniitalianidicoppia #tagteamchampions #titoloitalianodicoppia #hardcorecassi #dennis #cultofviolence #tagteamwrestling